The Hugoton Area Chamber of Commerce and the Hugoton Tourism and Visitors Board are joining together to encourage employees of Stevens County businesses that work with the public to take advantage of a new free online course – KANSAS At Your Service.  We are offering a $25 Chamber gift certificate to those who complete the course.
Complete the course (can be done in about 2 hours)
Print your certificate and
Bring it and proof of employment (a recent pay stub) to the Hugoton Area Chamber of Commerce office.
We will give you the $25 Chamber Gift Certificate.  
It Is That Easy!!
The  S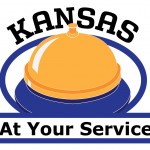 tate of Kansas has developed a FREE online customer service training class called "Kansas At Your Service" and the Hugoton Tourism and Visitors Board and Hugoton Area Chamber of Commerce want to encourage Hugoton and Moscow businesses to take advantage of this opportunity to improve customer service skills.
Kansas' tourism industry is one of the state's top employers and is a leading contributor to Kansas' great way of life.  It encompasses careers in many fields including hotels, restaurants, museums, performing arts centers, convention centers, retail stores, campgrounds, state parks, national parks, visitor attractions, wineries and many, many more professions.  The continued success of the state's tourism industry directly depends on first class service that will make our visitors' experience memorable.  The system of customer service taught in Kansas At Your Service will provide the type of service to keep visitors coming back to Kansas (and locally back to your business).  The Kansas At Your Service program provides statewide standardized customer service training, emphasizes the importance of quality customer service and equips employees with tools and resources to better serve visitors to your business.  The course can be stopped and started as needed and only takes a computer with internet access to complete and a printer to print the certificate at the end.  The behavioral vignettes deal with those everyday "transactions" which either make or break an otherwise memorable experience.  The motivating yet common sense training modules bring it right home, demonstrating that service, attitude, attention and sincerity make the difference.
The web-based certification training, available in both English and Spanish is offered at no charge and after completing the Kansas At Your Service online program a personalized certificate, which is recognized by employers throughout the state as a symbol of expertise in service and knowledge of the key success factors in Kansas' visitor industry can be printed.
To take the Kansas At Your Service online course visit:  www.KansasAtYourService.com
For more information about the incentive program offered by the Hugoton Tourism and Visitors Board and the Hugoton Area Chamber of Commerce call 544-4305.