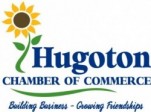 The Hugoton Area Chamber of Commerce is working to create a strong local economy by providing networking opportunities, promoting our community, and representing rural living at its best.
Simply stated…the Hugoton Chamber actively seeks to make Hugoton and Stevens County a better place for everyone to live, work, and play.
Hugoton Area Chamber of Commerce Mission
"The Hugoton Chamber of Commerce is an organization of community focused leaders dedicated to promoting a positive business environment by supporting economic development through networking, teamwork and innovative thinking. We are a voice and resource for business, education, agriculture, civic and community organizations."
This Chamber of Commerce is a non-profit organization incorporated as such under the laws of the State of Kansas and shall be non-partisan, non-sectional, and non-sectarian in its activities.
The purpose of this organization is the promotion of the civic, commercial, industrial, agricultural, educational, and cultural interest of the City of Hugoton and Stevens County, Kansas.
A seven member Board of Directors, elected for three year terms, governs your Chamber.  From that body, a Board President, Vice President/Secretary, and Treasurer are elected annually.  The Board of Directors is the policy making body of the organization.  The Board hires an Executive Director who manages the day to day needs of the Chamber and to help meet the goals of the organization.
2017 Board Members
Alisha Owens, Executive Director
Leslee Hoggatt (Dillco Fluid Service), President
Dustin Johnson (Edward Jones Financial Advisor), Vice President/Secretary
Charlie Field (First National Bank), Treasurer
Cathy Wolters (Wolters Construction)
Ryann Bogenschutz (Flatlanders Farm & Home)
Stetson Honig (Citizen's State Bank)
Dora Rojas (Tate & Kitzke Law Firm)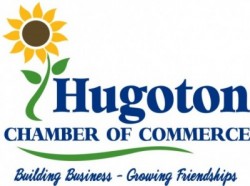 The Hugoton Area Chamber of Commerce is a member of Southwest Kansas Chambers of Commerce along with Dodge City, Garden City, Liberal, Scott City and Grant County (Ulysses) Chambers of Commerce, as well as CCEKS (Chamber of Commerce Executives of Kansas).
The Southwest Kansas Chambers of Commerce appreciate the support of many businesses located in Southwest Kansas who sponsor these events:
---
Southwest Kansas Legislator Appreciation Dinner
Description:  The Southwest Kansas Chambers of Commerce (SWKCOC) are hosting a Regional Dinner for our Western Kansas Legislators at 6:00 pm on Tuesday, November 15, 2016 at the Southwind Country Club in Garden City.  We invite you to join us for an evening of dinner and conversation.  Attending will be SWKCOC Directors from Dodge City, Garden City, Hugoton, Liberal, Scott City and Ulysses as well as key people from our communities and our surrounding Western Kansas towns.
---
SWKNOIT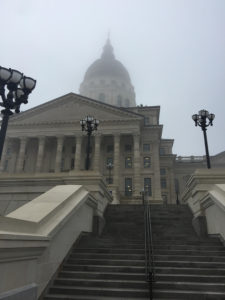 Desription: The Southwest Kansas Chambers of Commerce (SWKCOC) has announced the details for the 7th annual "Southwest Kansas Night Out In Topeka.  Each year, the group comprised of the Chamber Executives from Garden City, Dodge City, Grant County, Hugoton, Liberal, and Scott City Area Chambers, hosts Kansas State Senators and State Representatives in the capitol city during the legislative session.  The event will be held on Monday, January 23, 2017 at the Capitol Plaza Hotel in Topeka from 5:00 pm to 8:00 pm.  The event honors state-wide legislators and introduces them to the Southwest Kansas businesses and community leaders.  All 40 State Senators and all 125 State Representatives are invited to the event.
To-Date our Sponsors include:
PRESENTING: Finney County Convention & Visitors Bureau
GOLD: Western State Bank
SILVER: AT&T, Black Hills Energy, Pioneer Electric Cooperative, Inc. /Southern Pioneer Electric Company, Southwest Medical Center, and Sunflower Electric Power Corporation
BRONZE: J & R Sand Company, National Beef Packing Company, United Wireless, Victory Electric Cooperative Association, and Wheatland Electric Cooperative, Inc.
Thank you to these generous sponsors for their support of our legislative events.