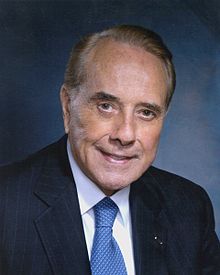 The Hugoton Area Chamber of Commerce is proud to participate in sponsoring a meet and greet for Former Republican U.S. Senator Bob Dole when he visits Hugoton on Wednesday, September 24 as a part of this Southwest Kansas tour. He will be at Memorial Hall (200 East 6th Street, Hugoton) from 10:45-11:45 a.m. for the meet and greet, which is open to the public. The stop in Hugoton will be the first event of the day on the 24th which also includes stops in Morton, Stanton, and Grant Counties.  Other stops on this 3 day tour of Southwest Kansas include Edwards, Kiowa, Clark, Meade, Seward, Haskell and Gray Counties.
Dole is not running for office, but the 91-year-old has a tour schedule that could tire a politician half his age.  The retired Republican Senator is traveling from county to county, on a tour of his beloved home state.  He has said repeatedly that the purpose of his sentimental journey was simply to visit with the people of Kansas and express his appreciation for their long support. Friends of the former senator say Dole has been angling to make a trip home for years now, but only recently has his health improved enough to make that possible.  Earlier this year, Dole simply picked up the phone and started calling friends and former aides in Kansas to enlist them in planning a trip.  He has made it his mission this summer to visit all 105 counties in Kansas which started in April of this year.
The former Senate majority leader and Republican nominee for president and vice president may be slowed physically, from age and war wounds and now a knee that is bothering him. But his determination is as strong as ever and his wit still sharp. "I've got a 45-year-old-mind trapped in a 90-year-old body," he joked at the Senior Center in Paola.  He draws people of all ages, from fellow veterans of World War II to old friends from bygone days in Kansas to middle-age couples to the occasional youngster. They bring memorabilia of Dole's long career — old photos and clippings, pamphlets, books and campaign pins. They wait patiently in line to have their pictures taken with him — and he is patient with them.  He has earned the label elder statesman, revered by Republicans and Democrats alike. Tom Daschle, the former Senate Democratic leader, wasn't surprised when he heard about Dole's planned tour of Kansas. Last winter, around Christmas, Dole called him "just to thank me for being his friend," Daschle said in an e-mail message. ". . . I love that man."
Sixty-nine years ago, Dole lay on a battlefield in northern Italy, grievously wounded and near death. His back and right shoulder had been shattered by German machine gun fire. A soldier gave him a shot of morphine and put an "M" on his forehead, lest an unknowing medic later give him another dose that could have killed him.  The handsome and once-strapping athlete came home to tiny Russell, Kansas, broken in body and spirit. He weighed 122 pounds. He spent 39 months in hospitals in recovery, underwent numerous operations and was left permanently disabled, his right arm incapacitated. He spent hours in back of his home, working a rope-and-pulley contraption with weights that was affixed to the garage, building up his body. When he announced his campaign for president in 1995, he returned to Russell on the 50th anniversary of his wounding. The ropes and pulleys were still there, testimony to how far he had traveled from those darkest days.  He would go on to serve in Congress for 36 years — four times elected to the House and five times to the Senate, where he became the majority leader, until he quit to focus full-time on his 1996 campaign. He ran for president in 1980 and 1988 before finally winning the nomination on his third try, only to fall short against the incumbent, Bill Clinton.
Dole has been out of elective office for almost two decades, but not out of politics or active life. He still goes to his office at the law firm of Alston and Bird nearly every day. He spends time on veterans issues. Last December, he pushed for Senate to approve a United Nations treaty modeled after the Americans with Disabilities Act. Members of his own party defeated it.   He urges anyone with a relative who served in the war to take advantage of the Honor Flights that ferry veterans to Washington to see the World War II Memorial. "I go down every Saturday and greet the veterans who come from all over the country," he said.
Inside the Darby Gallery at the Robert J. Dole Institute Of Politics on the campus of the University of Kansas in Lawrence is The WW II Memory Wall.  This photo montage displays over 1,000 images of Kansans who either fought in World War II or served on the home front.  The Memory Wall grew out of Senator Dole's desire to honor his late brother, Kenny, and other Kansans who fought overseas or worked for the war effort at home. Public response to the Memory Wall was so overwhelming that the Wall was doubled in size and a computer kiosk was added. The kiosk, located beneath the Memory Wall and easily accessible to visitors, currently holds over 3,000 individual and group images.  WWII veterans and/or families are still invited to send WWII vet photos to be included in this very special collection.  Photos can be mailed or emailed to: Dole Institute of Politics, University of Kansas, 2350 Petefish Drive, Lawrence, KS  66045; email:  doleinstitute@ku.edu.
Guidelines for Submitting Photos
Photo of Kansas WWII veteran in military uniform or casual.
Include: Veteran's name and Kansas town considered "home;" (other military information is not placed in kiosk…only name & photo).
Provide your contact name, email and/or mailing address.
Let them know if veteran attended KU (KU association is not a requirement for inclusion in the photo collection.)
Kansas WWII Veteran defined  as — native born Kansans or a vet who settled in Kansas after WWII.
Photos may be in digital form or any size, black and white or color, prints; please do not send frames.
Digital photos may be sent via e-mail, preferably in jpeg format and as an attachment to the email.
Questions?  Call the Institute: Phone: 785.864.4900