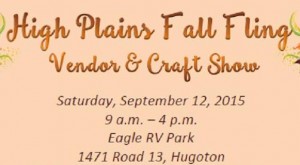 The Hugoton Area Chamber of Commerce is organizing a vendor and craft fair to be held on Saturday, September 12, 2015, in conjunction with the High Plains Music Fest.  The High Plains Fall Fling will be held from 9:00 a.m. – 4:00 p.m. at the Eagle RV Park, 1471 Road 13, Hugoton, KS (right across the road from Dirtona Raceway, the location of the Music Fest).  We are very excited to be working with the organizers of the Music Fest to plan this craft show and look forward to it being such a success that it will become part of this annual event.  Below is some of the specific information we want to pass on to you.
Conditions for Show Participation:
Booth space fee:   $25.00  (Only paid registration guarantees your booth space.)
We accept all types of arts, crafts and things.
Booth spaces will be a minimum of 12 feet x 12 feet.
Because this is an outdoor event we recommend you bring a canopy for your booth. You are also responsible to provide tables, chairs, etc. that you need for your booth.
High Plains Fall Fling will start at 9:00 a.m.
The Hugoton Area Chamber of Commerce is responsible for marking and assigning booth space.
You are responsible for set-up and clean-up of your space.
If you are selling food, please provide a trash can for your booth.
Booth space is limited.  To reserve your spot or if you have any questions, contact the Chamber office (620-544-4305 or hugotonchamber@gmail.com).
Some of the vendors we have lined up:
Kansas Flavor
Lolli & Dauts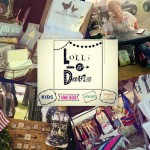 Keches Kreations
Sam Raff Woodworking
Yellow Brick Stitch
CloseKnitted
Thirty-One
Gayle Claggett – Homemade pies
Barbara Herring – Deco Mesh Wreaths
Lynn's Paparazzi Jewelry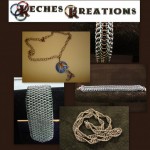 Lynnie's Nest
Crazy Lady Creations
Norwex
Pink Papaya
For more details on what these vendors will be selling on at the High Plains Fall Fling go to the Hugoton Area Chamber of Commerce Facebook page.  You can also use #HighPlainsFallFling.