Saturd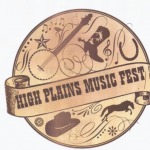 ay, September 12, 2015
Venue: Dirtona Raceway
Address: Hwy 56 and Hwy 25, Hugoton, KS 67951
Time: From: 6:00 PM to Midnight; Gates open at 4:00 p.m.
Admission: $30 Adult;
$15 Children (ages 7-15);
Children 6 & younger free with an adult admission
To purchase tickets, go to their website http://highplainsmusicfest.us/tickets.html
Contact: Jan Leonard,   620-544-3069
Email: info@HighPlainsMusicFest.us
This is the 2nd Annual High Plains Music Fest with a great line-up of talent. Get ready for an incredible day of Red Dirt Country, Classic Country, and Southern Rock! This year's talent line-up includes Stoney LaR ue & the Arsenals, Eric Welford, Kinsey Sadler, and Broken Bar V.  Proceeds will go to local charities including the American Cancer Society, Peacehouse Ministries and Southwest Miracle.  Additionally, Team Abengoa and Team Brahma draw the winning ticket on their Relay for Life Fundraiser raffle – an OCC Custom Chopper.  If you have not purchased your ticket to win this amazing bike click here for details.
Festival Schedule
4:00 p.m.                    Gates Open!
6:00 – 7:00  p.m.         Broken Bar V
7:20 – 8:20 p.m.          Kinsey Sadler
8:40 – 9:40 p.m.          Eric Welford
10:00 – 11:30 p.m.      Stoney LaRue & The Arsenals
Location: Dirtona Raceway at the junction of U. S. Highway 56 and Kansas Highway 25 – on the northeast edge of Hugoton, Kansas.
Additionally, this year the High Plains Music Fest and the Hugoton Area Chamber of Commerce are teaming up to put on a Fall Fling Vendor and Craft Show, High Plains Fall Fling.  This event will be held across the road from Dirtona Raceway at the Eagle RV Park (1471 Road 13, Hugoton).  If you (or someone you know) have arts, crafts, foods or other items, you can showcase them at the Fall Fling Craft Show for just $25.  The Craft Show will be held from 9:00 a.m. – 4:00 p.m.  Booth space is limited, so reserve yours today by contacting the Hugoton Area Chamber of Commerce at 620-544-4305 or hugotonchamber@gmail.com.