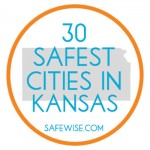 Our number one safest Kansas city certainly deserves the honor. This charming rural community only had 15 total reported crimes in 2012, and there were zero counts of murder, forcible rape, robbery, aggravated assault, or arson. Hugoton is a small town where honesty, generosity, and hard work are highly valued.
A natural gas boomtown, Hugoton more than doubled its population between 1920 and 1930, when reserves of natural gas were first discovered. Hugoton Field grew from four wells to more than 10,000 present today – over 7,000 of which are still in operation. Visitors and residents learn to appreciate the value of natural gas to Hugoton at the Stevens County Gas & Historical Museum established near the site of a gas well drilled in 1945 that is still producing gas today.
To see the other Kansas communities that made the list go to 30 Safest Cities in Kansas.