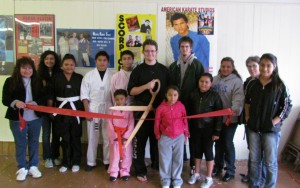 Hugoton Area Chamber of Commerce Director, Ruth Van Horn, welcomes American Karate Studios to Main Street in Hugoton, Kansas, on October 18, 2013.  Students and parents turned out for the ribbon cutting on Friday at noon.  Christian Santarpia, Instructor, cut the ribbon on behalf of the Studio and owner Mark Anthony Baca.
Master Baca has over 33 years of experience in martial arts.  In addition to his interest in the martial arts, Mark Anthony is also striving to promote his anti-bullying campaign. He has visited hundreds of schools nationwide.  You can find American Karate Studios on Facebook by searching Hugoton/Ulysses American Karate Studios by Master Baca.
Stop by the new studio located at 614 South Main or call 580-461-5315.