The Southwest Kansas Irrigation Association will hold their 58th Annual Meeting along with the Southwest Kansas Corn Growers Association on Wednesday, January 8, 2014, from 9:00 a.m. – 2:00 p.m. at the Grant County Fairgrounds in Ulysses, Kansas.  Lunch will be served.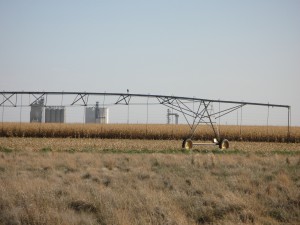 This organization is inviting local businesses, banks, livestock interests, crop consultants, and other irrigators to attend. Anyone who has an interest in water in Southwest Kansas should attend.  The content of this meeting will be related to the Governors 50 year vision for the future of water in Kansas.  The SWKIA and the Southwest Kansas Corn Growers have been major players in developing, conserving, and managing the aquifer since the inception of both associations.  On the agenda of this meeting is Jackie McClaskey, Kansas Secretary of Agriculture.  There will also be a panel discussion and breakout sessions to discuss 50 year vision for the Ogallala.  At the Governor's Future of Water in Kansas Conference held in October, 2013, 550 people attended.  Irrigators present were probably less than 50.  The main objective of the meeting is to get those whose economic life depends on the Ogallala informed of its current status and the future planning necessary to keep our communities thriving.
The Southwest Kansas Irrigation Association covers 19 counties in southwest Kansas.  The membership consists of predominately irrigators but also industry closely associated with irrigation. The SWKIA has always had the future of water on its mind.
Objectives and History of the SWKIA
Because of the importance of this subject to the financial future of Southwest Kansas, business owners are encouraged to attend.
If you have any questions, please contact
Kirk Heger – 620-544-1468
kirkheger@gmail.com